Register
Battle Royale Tournament 2023 Volleyball · Any All Skill Levels
MonTueWedThuFriSatSun 8:00am to 6:00pm
Team Fees

Regular

$250.00 per team + 8.0% Processing Fee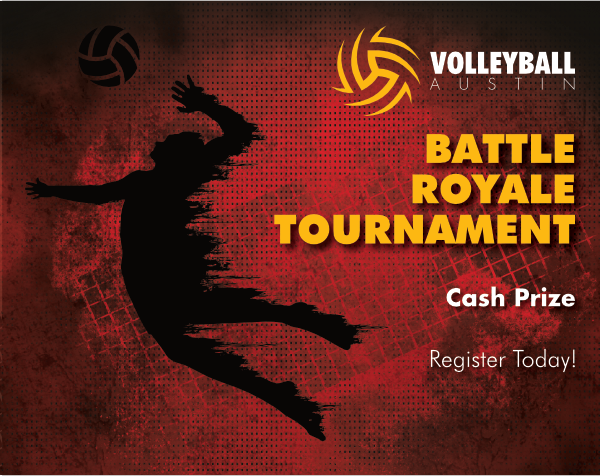 | | |
| --- | --- |
| Location: | Austin Sports Center Central, 425 Woodward St, Austin, TX 78704 |
| Date: | Saturday, April 29, 2023 |
| Time: | 8:00 am until about 6:00 pm or until your team is eliminated |
Details
$250 registration fee for a team of 7; additional players add a $30 fee.
20 team max.
1 Day Single Elimination tournament
No restrictions on rating (VBA, NAGVA, other), skill level, or gender. Players must be 18 years or older. Be advised that many teams are at the B or BB level, or VBA competitive level and higher.
Pool play
Begins in the morning. Pool play schedules will be provided before the tournament.
Two sets each match
Race to 25 points
Timed, 5 minute warmups.

Two timeouts per set, one minute each

Games are self-refereed. Referee duties will be posted in schedules sent to teams. Teams must provide an up ref (R1), down ref (R2), two line judges, and a scorekeeper. Ref teams are encouraged to help keep games on time and moving.
Bracket Play:

Based on pool play results, teams will be divided into an Orange Bracket (upper-ranked top half of teams) and a White Bracket (lower-ranked bottom half of teams).

Bracket schedules will be displayed.
Single Elimination
Best of 3 sets
Race to 25 for the first and second sets. Race to 15 for the third if applicable. Switch sides at eight points.
Two timeouts per set, one minute each

NO REFUNDS WILL BE AVAILABLE. No refunds for disqualified teams/players (if applicable) or withdrawing from the tournament.
Snacks will be provided. Players may also bring their own snacks and drinks. Based on your team schedule, you may take a lunch break as needed. Several food businesses are located off of Highway 290/71 and I-35 as well as Congress, and Oltorf & Congress. A drink vending machine and water fountain is available onsite. The mezzanine of the gym is available for eating with tables, chairs, and a view of both sides of the gym courts.
Registration:
Captains should register their teams and fully pay the fee to complete registration. Your spot is not held until payment is complete. Captains may add/assign players to their teams.
Tournament Notes:
Now accepting registrations!